Family Law Matters
Devoted Solely to the Practice of Family Law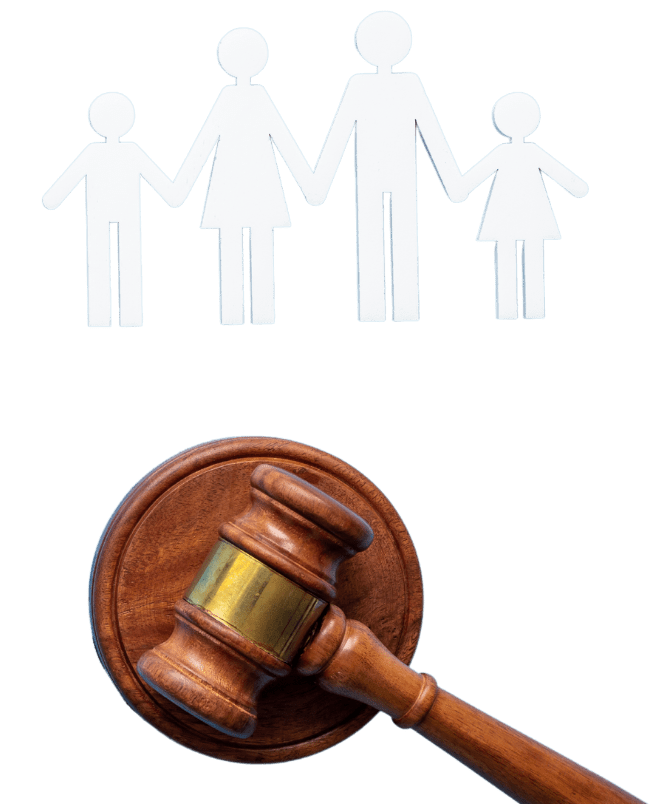 Pinellas County Family Law Attorneys See What Kathy C George & Associates Can Do for You
      Family comes first. That's why it can be particularly challenging to deal with legal issues concerning your loved ones. You want to balance everyone's best interests, including your own, but it can be difficult to do it alone.
      When you and your loved ones need support for a difficult legal matter, turn to the professionals at Kathy C George & Associates. Our Pinellas County family law attorneys are highly qualified to represent family legal cases that require quick and efficient resolutions, from uncontested divorces to complex and contentious matters that require a careful, calculated approach. Regardless of the approach your case requires, we are prepared to assess the situation and tailor our strategies to your unique needs. When you put our family lawyers on your side, you can rest assured that your situation is in good hands.
Types of Family Law Cases We Handle
      Family legal issues know no boundaries. They can span far and wide, but no matter what, we prioritize the needs of our clients and their families. Our team of lawyers takes the time to fully understand our clients' family dynamics, goals, and objectives to have a clear idea of their best possible courses of action. For these reasons and more, Kathy C George & Associates is a firm you can count on.
      So, how can we help you? Our family lawyers are committed to zealously representing our clients in a broad range of legal capacities. We are equipped to handle family law cases including:
      Divorce: Also known as a "dissolution of marriage," divorce involves far more than ending a marriage. It requires thorough and effective planning to ensure you and your children are on the path to a bright future. Whether your divorce is contested or uncontested, you can count on our attorneys to explain all of your options, walk you through the process, and champion your best interests every step of the way. We are equipped with the experience and insights needed to help you start a new chapter in your life.
      Paternity: It is important to establish a child's biological father for child support and visitation purposes. All parties, especially the child, could greatly benefit from establishing paternity.
      Modifications: Circumstances in life change. Maybe your spouse remarried, relocated out of town, or lost their job. For these reasons and more, your divorce order may not be feasible for your current situation. As such, if any aspect of your divorce order no longer reflects your current circumstances, we can help you pursue a change to that order.
    Collaborative law: Like mediation, collaborative law is a type of alternative dispute resolution that involves an amicable approach to reaching agreements. The difference is that both spouses hire their own lawyers, who legally cannot represent such spouses should the case go to Court. The spouses and their attorneys work together to reach mutually beneficial agreements, leaving everyone happy with the outcome.
    Child support: A hotly-contested issue in divorces is child support. Oftentimes, the custodial parent feels as though they are not receiving enough financial support, while the noncustodial parent feels like they're paying too much child support. Whichever side you stand on, the bottom line is that both of a child's parents are legally obligated to provide financial support. But the question of how much child support is hard to answer without an attorney on your side. That said, our family lawyers can help you reach a fair solution to your child support dispute.
    Child custody: Another common dispute in Family Law Courts is child custody. Parents often disagree on who gets custody and for how long, what type of custody (legal and/or physical) they should have, and what their child's best interests are altogether. A judge will weigh several factors to determine an effective custody arrangement that works for everyone, but especially, the child.
   Spousal support: To help spouses maintain the lifestyle they enjoyed during the marriage, judges may award spousal support to help lower-earning spouses get back on their feet. The five types of spousal support that a judge may award include temporary support, bridge-the-gap support, rehabilitative support, durational support, and permanent support.
Local Florida Team. World class results.
I just wanted to take a moment to thank you for all you did. You handled my (case) with integrity, tact and a sense of expediency. I will definitely recommend you in the future.
Do I Really Need a Lawyer for My Divorce?
MediaBeast
2022-07-26T18:51:21+00:00
It is in your best interests to hire an attorney to represent you in your divorce. They can protect your rights, explain your options, guide you through the process, and handle everything in between, from paperwork to negotiations to problem-solving and more. With so much on the line and emotions running high, you're better off entrusting your case in the hands of an experienced and compassionate lawyer who will see your case through. As such, you can count on our Pinellas County family law attorneys to advocate for your best interests, clarify your confusions, and ensure every decision made is well-suited for your needs and goals.
We bring 30+ combined years of experience to the table and a track record for successful outcomes on behalf of countless families in Pinellas County. Experience the difference we can make in your life by getting in touch online or at . You are not alone!
Guiding Clients
Through Difficult and Emotional Legal Disputes
We are available to help you prepare for virtual hearings via Zoom to accommodate changes.

Educate Our Clients Regarding the Judicial Process to Provide Clear Case Expectations

37 Years of Combined Experience Exclusively Practicing Family Law